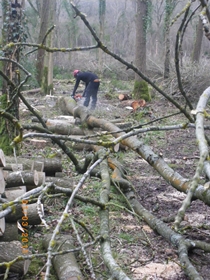 Thinning operation
WOODLAND MANAGEMENT
in Cheltenham, Gloucester, Stroud, Cirencester, Tetbury….
Welcome to Treeation Woodland Managament page. We provide a range of quality forestry services to Gloucestershire. Our comprehensive services include intital woodland surveys and writing management plans right through to practical management tasks. We are passionate about sustainable woodland management and our ethos is to conserve local woodlands but also to use these neglected resources to create financial opportunities. We use low-impact machinery and techniques to reach our goals that causes minumum disturbance to flora and fauna.
Why manage woodlands? read more
Forestry services:
Woodland Consultancy

- General woodland advice, English Woodland Grant Schemes, Marketing and Woodland Enterpris3 - see Woodland Consultancy case study

Woodland Planning

- Creation of Management Plans, felling licenses, TPO/Conservation area applications - see Woodland Consultancy case study

Woodland Advisor Role

- Customised to clients needs. Includes administration of grants, attendance of meetings with Forestry Commission, emergency contact, enterprise development - see Woodland Management case study

Planting and Woodland Creation

- Woodland design, species choice, planting, aftercare maintenance - see Treeplanting case study

Woodland Restoration

- Thinning, track upgrades, coppicing, fence repairs - see Woodland Management case study

Felling

and harvesting and small scale timber extraction

Woodland Products

- charcoal, firewood, coppice products, timber, sculptures and woodchip - see products page.

Control of Invasive Species

such as Rhododendron and Sycamore
Sensitive Management of Ancient and Veteran Trees
see veteran tree case study

Fencing

- Deer fencing, post and rail, stock fencing - see Livestock fencing case study
and Deer fencing case study

Furniture Installation

- Waymarkers, benches, stiles etc

Health and Safety Tree Works

- Assessments, climbing inspections and professional reports on unsafe trees - see Tree surgery case study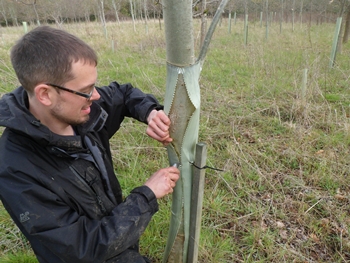 Removing tubex tree shelters
Please do take a look at some of our case studies that show you real examples of our work and check our customer testimonials to see what they think of our services.. If you want to know more about our company policies and qualifications check about us. For upto date matters please visit our blog page.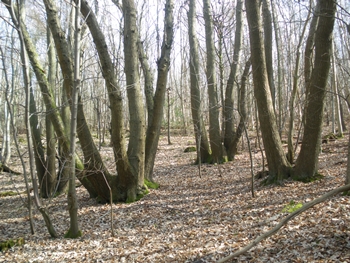 Overgrown coppice stems that are now prone to splitting apart
WHY MANAGE WOODLANDS?
Mans involvement with woodland dates back to our origins, Since Neolithic times man has used woodlands as an essential resource to provide shelter, building materials, food, fuel and medicines.
Many woodlands have now become neglected since the industrial revolution when bricks replaced wood as a building material and coal replaced firewood and charcoal as a fuel.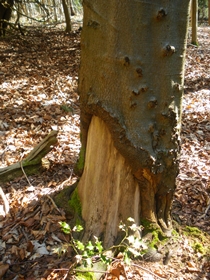 An example of lack of management - A beech tree that will never make good timber due damage caused by vermin in a neglected woodland
The lack of active management has many consequences upon our woodlands such as:
Over crowded , spindly, towering trees with poor timber quality and prone to wind throw
Poor habitat diversity, lack of tree regeneration
Poor light penetration to woodland floor so lack of ground flora and fauna
Increased tree daage through vermin and overgrazing
Invasion of undesirable vegetation such as Laurel and Rhododendron
Excessive damage to tracks through unauthorised vehicles
Lack of ride and path maintenance with overgrown vegetation restricting access
Firewood and

other wood products

click here




Do you need a QUOTE or want to make an ENQUIRY?




click here