Testimonials
I first came across Patrick Baldwin when he was an assistant reserve manager for the Gloucestershire Wildlife Trust; his responsibilities included the management of a large ancient woodland in the south of Gloucestershire, along with the production of wood-fuel products from the wood's resources.  It is this background that makes Treeation a unique service; Patrick's concern for the practical aspects of woodland conservation ensures that his services reflect both economic and environmental considerations.
Following from this initial contact with Patrick, I discussed with him the creation of a small woodland, whose purpose was to provide a sustainable source of wood-fuel in the future
Patrick's role was in two phases, first he advised on the planning and creation of the embryonic woodland, then second he oversaw and led on the preparation of the site, and its eventual planting. Patrick and I had some considerable discussion about how to plan and mange the proposed wood. Patrick also provided valuable common sense suggestions about the practical elements of choice of tree species – i.e. those suitable for the production of wood-fuel, setting out the site into a series of coups that would facilitate the management of the woodland, with adequate space for movement around the trees at the edges and through the centre of the site.  The second phase involved the mobilization of Patrick's team to strip back the undergrowth around the edge of the site, whilst I ordered and took delivery of the saplings, which Patrick and I planted together.  Patrick managed his team effectively, so that resources were spent preparing the site ahead of the planting.
Looking back over the exercise, Patrick's experience in site preparation and planting was invaluable.  In hindsight it would have been useful to engage Patrick and his team earlier in the planting season, but he was not available.  Nevertheless, the work was completed on time and to budget – albeit with some assistance from myself.  In terms of quality, Patrick is meticulous in his planning and use of resources; he was able to instruct his team exactly so that at no time was there any misunderstanding about the tasks at hand.  In summary, Patrick is an experienced and effective woodland manager, who provides a service that is both broad and informative and provides excellent value for money.  I would have no hesitation in recommending him and his services.
Stephen Pritchard
Chairman Gloucestershire Wildlife Trust
Treeation have carried out, in a very considerate manner, tree felling and extensive tree surgery and pruning on various occasions. The work has been professionally done, thoroughly cleared and left very tidy. The work has been carried out when planned after thoughtful discussion and a balance of environmental sensitivity and personal and commercial requirements met, at a competitive rate Have every confidence in recommending Pat Baldwin ( Treeation - tree and woodland management)
Alex Rendu, MRICS, MCInstCES
Treeation recently did some work for me, mostly pruning, and I was impressed with the high standard of their work. They took time to advise me and tidied up thoroughly once they had finished. I would highly recommend them to anyone who wants value for money and real expertise.
Here it is, Pat! Will be in touch sooner or later, Deirdre Treeation - Just to say thanks for the hedge cutting yesterday. Were really pleased with it.
John & Tins
To whom it may concern,
As a recent client we would be very happy to recommend Patrick Baldwin as a tree surgeon. Patrick was efficient and helpful through every stage of the process, from assessing the works to be carried out, quotation, seeking planning consent and completion of the work itself. Patrick was prompt and efficient and left the garden immaculately tidy.
With the mature trees he worked on he was careful to create a pleasing shape. Having used other tree surgery services we found Patrick's fees highly competitive.
Dr A & Mrs J Roome, Redland, Bristol
Thanks for your great work in our out-of-control garden! Your knowledge and appreciation of trees gave me confidence to trust you'd do a quality job - and you did. Dealing with the Tree Preservation Officer was also really helpful. I'll definitely get you back when we need further pruning and removal.
Joe (Stroud)
"I recommend Treeation to any of my clients needing treework. They are highly skilled and love and respect trees"
Bex Gardening Services
I asked Treeation to remove 5 large dense fir trees; trim an overgrown mixed front boundary hedge to a tidy shape; prune a mature decorative cherry tree; tidy a small mixed boundary hedge; stack logs to be kept and shred and remove all unwanted material.
The work was done efficiently over a day and a half to my specifications and the site was left clean and tidy.
Compared to similar types of work I have had done in the past by others the price was very competitive and good value for money.
I  will use Treation again and recommend them to others.
Leonora Rozee
Following the removal of one large conifer and the reduction of another we would recommend Patrick Baldwin for any tree work you might have. From initial contact, quotation and discussion to carrying out the work, the whole process was friendly, efficient and competitively priced. Paul (Minchinhampton)
All the best 
Paul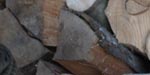 Firewood and
other wood products
click here
I met Patrick Baldwin when he delivered logs to my home as part of his employment with Gloucestershire Wildlife Trust.  During that visit he explained that he was a tree surgeon and, as I have a mature walnut tree in my garden that had become too large, I asked his advice about reducing and lifting the crown.  He suggested a suitable reduction, the best time of year to carry out the work to avoid trauma to the tree, how long the job would take and how much to expect to pay.  I was impressed with his enthusiasm and invited him to carry out the work.  He arrived with a colleague on the agreed date, carried out the work in pouring rain to a professional standard and removed all of the timber and waste leaving my garden in a tidy state.
I would not hesitate to recommend Treeation for any tree maintenance work.
Ken Wallington
Treeation carried out work on two of our SSSI woodland nature reserves in a very professional manner, and was sympathetic to our aims as a conservation charity throughout. The majority of the work was concerned with potentially dangerous trees, but Treeation also showed a very good understanding of tree and more general woodland ecology, which is hugely important for an organisation such as ours. The work was carried out efficiently and the end results were as requested. We are very grateful for Treeation's work and would highly recommend them.
Steve Edmonds, South Cotswolds Reserves Manager, Gloucestershire Wildlife Trust
Thank you for your recent work with us reducing the large tree in our back garden. We have been delighted with every aspect of you working with us. Thank you for spending time with us beforehand listening to our thoughts and talking through and advising us on our options re the tree and on the day you came to do the work giving us a tree shape we are delighted with - Brilliant. We feel you gave us excellent value for money and will be recommending you to anyone we know who needs tree maintenance work.
Mick and Vonne Evans. Minchinhampton
Patrick Baldwin has worked for us over the last couple of years. His tasks have included woodland maintenance, tree felling and surveying mature woodland with a view to producing long term management plans. Throughout he has shown a deep love for forestry, excellent knowledge of woodland management, careful efficient work,always done on time and at reasonable cost. In all his work, his enthusiasm shines through, and he and his team are a delight to work with.
Chris & Elizabeth Brent-Smith Brentlands Estate, Brookthorpe Gloucester
In November last year you felled a horse chestnut tree and removed some branches of a large sycamore. The quality of work was excellent and the job was done on schedule. The price was competitive and good value. The branch logger service is excellent value for money and means there is little brash to dispose of, the material produced is excellent for kindling, reviving a dieing fire or just for burning. I have no hesitation  in  recommending Treeation.
Mike Buxton
Treeation undertook a number of crown reductions for this year for us. The 2 large Eucalyptus trees we're sensitively pruned to reduce windsail and reduce risk of windthrow which we lost a number of eucalyptus trees to early on this year in the gales. They also pruned 7 mature cherry trees that had become overgrown and scraggly in the summer months to reduce risk of silver leaf fungus.  All reductions were left looking really good with good shape and balance and our garden was left tidy. We felt we had every confidence in Treeation's knowledge and experience to leave our trees looking healthy and for the job to be done safely and effectively.
Jon Air
Treeation "pollarded" a large sycamore tree for us, reduced the height of a line of large conifers and reduced and shaped our walnut tree, leaving everything tidy afterwards. We are very satisfied with the quality of Treeation's work which was undertaken with obvious skill and care at a competitive price. I have no hesitation in recommending Patrick and his team, who it was a pleasure to have work for us.
Steve Emery
Patrick and his team were a pleasure to work with. In addition to being punctual, polite and professional at all times, they demonstrated a clear passion for their work and a detailed knowledge of the trees they were working on. We would highly recommend them to anyone needing tree work.
Dr G.Cox, Painswick